on
November 8, 2023
at
12:01 pm
You can see the next page right now on Patreon! [Link]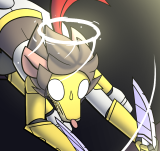 Let's see what our rat can really do now that all of the Veekis are in play.
By the way! I know a lot of people don't follow what I'm doing everywhere, and it's very easy for me to forget that. So I'd like to mention a few cool side projects that I have been working on!

Bloodline beach comic [Link], a fun side comic that lets me just go wild and have fun, a change of pace from the serious main story.

I'm working with a friend on a silly "Ember dating sim"! It's actually mostly done, we are aiming to finish it by the end of the year. I'll show off screenshots soon! Feel free to ask questions in the comments.
I am also going to Midwest Furfest this year. I will have original traditionally drawn Copic marker works in the art show, and I will hopefully be selling in the artist alley.