Bloodline 354
on
May 6, 2021
at
1:08 am
We're back, and we finally get to see Commander Ramiel! Better run and hide, Veera!
We should be back to weekly updates again. Look for the next page next week!
In other news, I've been working in traditional art while I've been gone.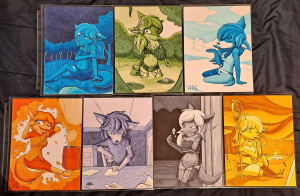 I'm selling the physical originals of these for anyone interested! They are truly special, so don't miss out! (I'll also likely be selling printed copies of the originals at a later date).
The auctions will be held here: [Link]
Expect the Ember original to go up for auction tomorrow at 2 (the 6th, 2:00 est) followed by the Bernin original as soon as the Ember one ends. Lupa, Ariah and Sil are already sold. Veera and Vaili are planned for the same time next week.
Thank you everyone participating, and best of luck!